Marketing and promotion is becoming a much more important part of running recreation organizations of all sizes. Being able to quickly and easily target specific segments of your member population based on demographic characteristics or past program participation allows you to better reach out to the right people at the right time when promoting new programs or getting feedback on old ones.
We recognize this and one of the main goals for RecDesk this year is to build out the tools and services that will help you do this. The first iteration of this was released this morning in the form of a much robust Advanced Member Search feature. Results of the Advanced Member Search can easily be exported to Excel via the Actions button. The Advanced Member Search replaces the current Member Search page and can be accessed by simply clicking the Member's tab.
We will be enhancing these tools over the next few months to include improved email marketing integration, reporting and more search options.
Initial Advanced Member Search criteria include:
Residency Status
Birthdate Range
Gender
Street Name
City
Zip Code
Program Participation Name
Program Participation Date Range (i.e. anyone who participated in a Program in 2013)
Advanced Search Page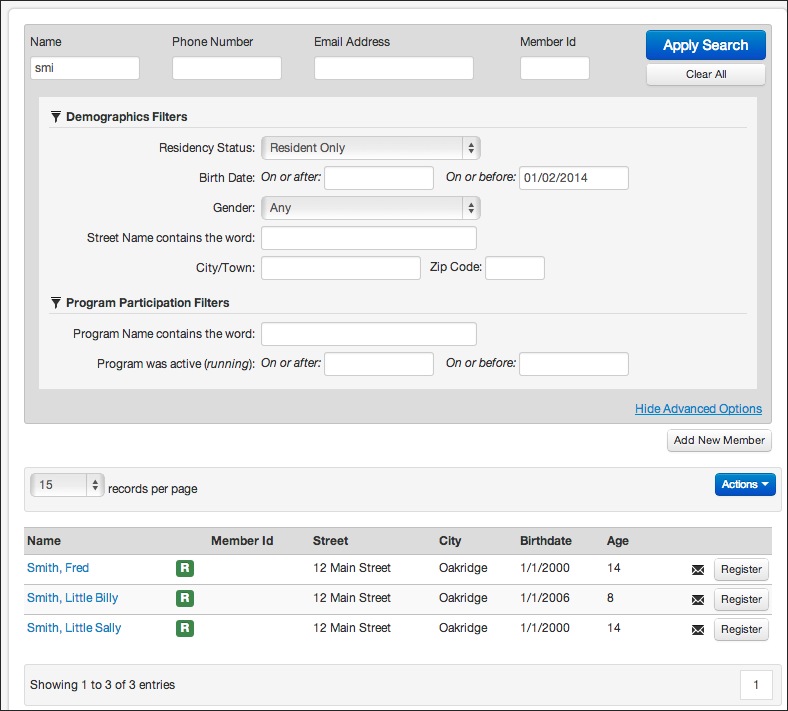 Share