An update was rolled in this weekend and includes the following enhancements (in addition to several minor bug fixes)
1. Privacy Settings on Reservations
You now have the ability to show/hide the details of a Reservation by toggling the Privacy setting on the Reservation detail page. The two options are: PRIVATE – Details NOT viewable on Community Calendar and PUBLIC – Details Viewable on Community Calendar.
The default value is PRIVATE (and has been applied to ALL previous Reservations made prior to this change. As an example, if a Reservation is made with a Use description of Fred's Big 50th Birthday Bash, and the Reservation is marked Private, the description on the Community Calendar will read ** Reserved **. If it is marked public, it will read Fred's Big 50th Birthday Bash.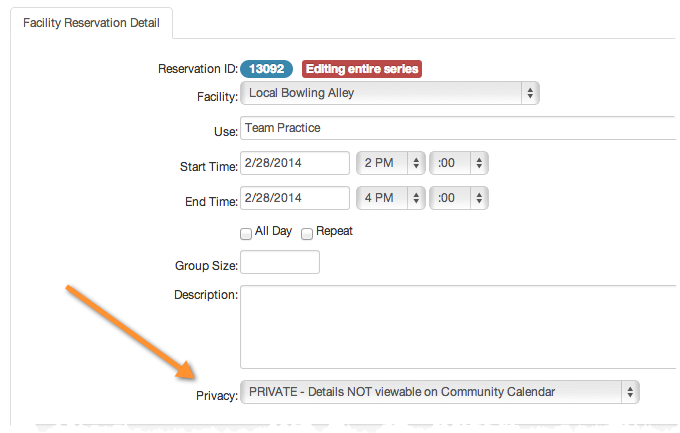 2. Payment Record Enhancements
Two minor changes went in that will help when working with payment records in RecDesk.
You can now edit certain fields on the Payment record after-the-fact. These include Check Number and the Note field
The Note field has been expanded in size so it can now handle very large notes (up to 2K characters)
Share