We're happy to announce that Instructor and Coach access to Rosters and other registrant related information is now available. This is an opt-in feature and Coaches, Instructors and other Volunteers will only have access if you grant it to them. They will only be able to see their Program and/or Team Rosters. Basic capabilities are:
View Rosters
Email Rosters
Send Text/SMS to Rosters
Export Rosters to Excel
Instructor and Coach Access is available through our new, fully-responsive RecDesk Community site (not traditional/legacy RecDesk Portal). The new RecDesk Community site automatically appears on mobile devices but may or may not on the desktop depending on whether your organization has full transitioned to the new RecDesk Community. Some screenshots of what a Coach/Instructor would see on a phone are shown below – the desktop experience would be similar except a bit larger 😉
For more details on Instructor and Coach Access please see our Help Guide.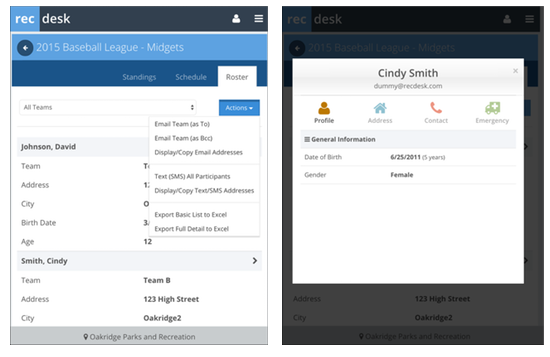 Share